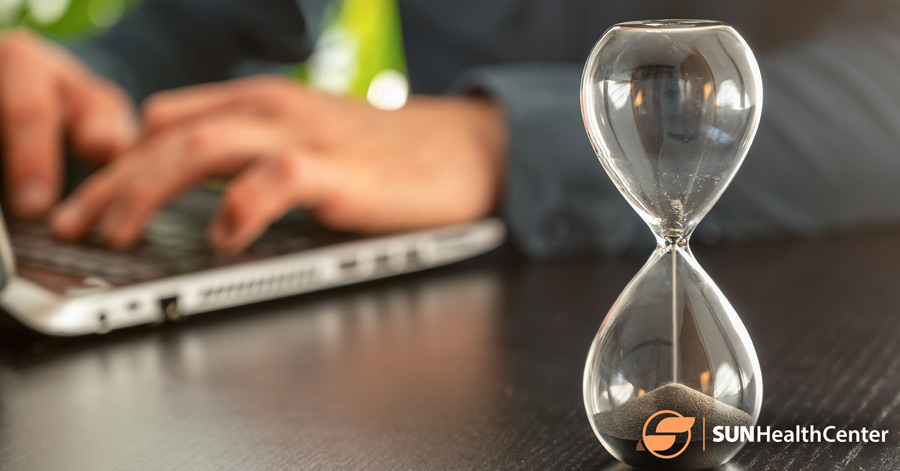 Learn about urgency culture, what it means and how this workplace culture can have an impact on your physical and mental health. Have you ever worked somewhere that expects you to be available 24 hours a day? To reply to emails even if it's 10 p.m. on a Sunday or you're at your child's recital? Does your boss give you funny looks if you go home at 5 p.m. instead of staying late to finish a report, even if it isn't due yet? If any of that sounds familiar, you aren't alone. There's even a term to describe that kind of working atmosphere: urgency culture. But what does a "culture of urgency" mean, and how can we take back control of our free time and reduce our stress levels?
What is Urgency Culture?
Urgency culture describes an environment where people are to be reachable at all times and to respond to every query as if it's an emergency. Part of this can be attributed to the recent rise of mobile phones. It's estimated that 97% of Americans have a cell phone today, with smartphone penetration at almost 85%. The phones, however, are just a tool. The problem with urgency culture isn't that cell phones exist, but that many bosses abuse it while many workers haven't learned how to make the technology work for them instead of the other way around.
Urgency as a Mindset
Our parents and grandparents probably grew up in a world where the only phone was a landline. If they were out of the house, they were unreachable. If they wanted to meet with someone, they had to schedule it. Younger generations are used to communicating and accessing information whenever and wherever they want. Social media apps capitalize on how many of us carry our phones around constantly, building in addictive mechanics to keep users checking their notifications as often as possible and scrolling their feeds for as long as possible. If the social media apps we use in our free time have trained us to respond to notification beeps, it should be no surprise that many of us are quick to pick up our phones and provide an instant response to messages from colleagues, too. Unfortunately, by responding this way, you're participating in the culture and perpetuating the idea that it's normal and acceptable to demand your colleagues are accessible 24 hours a day to reply to all queries.
The Dangers of Urgency Culture
It can be healthy to have a sense of urgency at work, especially when deadlines are looming. However, if that sense of urgency is misplaced or creates constant pressure it can have a negative effect.
Stress
When you're under pressure to perform, it's natural to feel stress. In the ideal world, every working day would be slow-paced and calm, but with just enough new challenges to keep things interesting. Sadly, the real world does throw unexpected obstacles at us. When you're days away from a big event or product launch it's normal to feel slightly stressed about whether everything will be done on time and whether things will go well. In companies with an urgency culture, there's no respite from that kind of stress. So every working day is a stressful event. Chronic stress can have a negative impact on the body in several ways, including:
Headaches
Gastrointestinal issues
Panic attacks
Increased risk of cardiovascular issues
Under normal circumstances, when you've finished whatever job is causing the stress you'll have some downtime and a chance to recover. When there's no end in sight to the stress, this can lead to burnout.
Burnout
People who work within an urgency culture environment, or a "reactive" culture where teams are rushing from one problem to the next, are more likely to experience burnout. It is possible for employees to work at a higher-than-average rate of productivity, meeting tight deadlines or pulling long hours for a short time in a genuine emergency. When every single workday is an emergency, however, this can and will lead to burnout. If you're currently working in this kind of environment, there's a significant chance you have felt tired, stressed or frazzled on more than one occasion. You may not be able to pinpoint a specific event or cause for why you're feeling the way you do, but you know you're stressed, agitated and often dread going to work. Working in a place with a culture of urgency can leave you feeling disempowered and frustrated, and it increases the chances of burnout. While burnout and stress are similar, the prolonged and sustained nature of burnout makes it more difficult to recover from.
Breaking Away From Urgency Culture
Breaking away from urgency culture can be challenging. Career gurus often claim the onus is on the employee to set boundaries and "learn to say no," or "find work and life balance." It's true that there are many things you can do as an employee to reduce the level of stress you face at work, but it is important that you can get your employer on board with the idea as well. It's easier to mentally switch off at the end of the working day if you're confident you won't receive backlash from your manager when you go to work the next morning. If you're someone who experiences a lot of anxiety even outside of the workplace, therapy may be an option for you. Sun Health Center offers a variety of mental health services to assist people who are struggling with stress, anxiety or depression and address the underlying causes of their condition while finding coping strategies they can apply to all aspects of their lives. If you're experiencing stress or burnout, or simply need some help to improve your mental health, call Sun Health. Our skilled counselors are here to listen to your problems and help you find a way to cope with the challenges in your life more effectively.