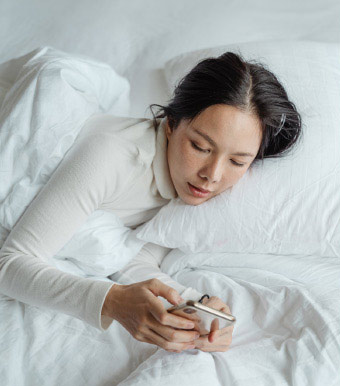 TeleTherapy
Stress. Personal or professional struggles. Challenges in early recovery. Anxiety, depression or other mental health issues. Whatever the problem, it's easy to feel you're all alone and to think nobody understands what you're going through.
Often, though, the presence of just one person, who can provide a safe, confidential listening ear and knows how to help, can mean the difference between feeling alone and stuck, and connected, supported and on the mend.
TeleTherapy, also known as online or virtual therapy, or cyber or e-counseling, is one of two TeleHealth services we provide (the other being TeleMedicine) to support your total healing from the inside out. TeleTherapy at Sun Health allows you to regularly meet with one of our licensed therapists remotely, via a secure video conferencing platform and from the privacy and convenience of your home. In some cases, it may also include emergency crisis intervention and the diagnosis of mental health disorders.
What is TeleTherapy, and how does it work at Sun Health?
Is it covered by insurance?
What are the differences between tele and in-person therapy?
What are the reasons patients choose TeleTherapy over traditional therapy?
This page will answer these frequently asked questions. (For more information or to schedule an introductory remote session with a therapist, call our offices today.)

"There has been so much turmoil in my life this year. I knew I needed help and support, and I knew I needed it on a regular basis. I considered in-person therapy but realized it would not be a sustainable solution with my job and family commitments. I also wanted weekly therapy sessions. TeleTherapy was the right choice. It has helped me through a difficult year and given me tools for coping with stress and finding my strongest self."
– Ally
What TeleTherapy Is and How It Works
Just like most in-person, talk therapy sessions, a typical TeleTherapy meeting typically lasts around one hour. During this time, you'll have the opportunity to share whatever is going on in your life and receive individualized mental, emotional and behavioral support, as well as healthy coping tools and life skills, from a trained mental health professional.
Our therapists are licensed and trained in "evidence-based" interventions for anxiety, depression, addiction and other mental health disorders. Evidence-based therapies are those that research has shown to be therapeutically effective, such as cognitive-behavioral therapy (CBT), which has proven not only easily adaptable for remote settings but also highly effective at treating anxiety, depression and other conditions. In fact, some research has associated online CBT with better treatment outcomes than in-person CBT. (There is also ample research suggesting that virtual CBT and in-person CBT result in similar outcomes.)
At Sun Health, we use only HIPAA-compliant videoconferencing technologies to protect patient records and ensure maximum patient privacy. Before their first TeleTherapy appointment, patients will be asked to fill out and sign some paperwork. They'll also receive some basic technical instruction about how to be prepared for their first appointment (when their therapist will contact them online).
During their first appointment, patients can get answers to any technical or other questions they might have about the online therapy process and how it works. We provide a highly secure digital platform. All a patient really needs is a charged computer with a camera, speaker, and microphone.
TeleTherapy vs. In-Person Therapy and When to Choose TeleTherapy
There are advantages to TeleTherapy and advantages to in-person therapy. Of course, the defining difference is that one involves physically meeting with a therapist at their office, while the other can take place from the comfort of one's own couch. Since there are distinct benefits to both, choosing one over the other should naturally involve careful consideration of individual life circumstances and priorities.
Take, for example, the issue of privacy. Depending on where you live, you may feel uncomfortable going to a psychiatrist or counselor's office—out of concern of running into someone you know—whereas meeting with your therapist via a secure Internet connection and within the privacy of your own home feels more comfortable and confidential.
Many people have a disability or another health issue or concern that makes meeting remotely the safest and/or most feasible option. For example, during a pandemic when fears of contagion and social distancing laws have placed restrictions on a great many interactions, TeleTherapy has emerged as the only option for a vast majority of people who need therapy. TeleTherapy is a much better alternative to no therapy.
Convenience and ease of access are also important considerations for people who ultimately choose TeleTherapy over in-person therapy. If the best therapist for your needs is a long car ride away, that distance and the scheduling of appointments can prove impossible to maintain—especially if you have a full-time job and other life and family commitments. Virtual therapy makes it possible for busy people to continue to receive the benefits of therapy in a longer-term capacity.
Is Online Therapy Covered by Insurance?
The question of whether online therapy is covered by insurance can depend on where you live, your state's laws, the insurance carrier's policies, and the specific services provided in online therapy. Many insurance plans do provide full or partial coverage, however. When you call our offices, our insurance specialists will be able to give you a more satisfying answer based on the specifics of your plan and other factors.