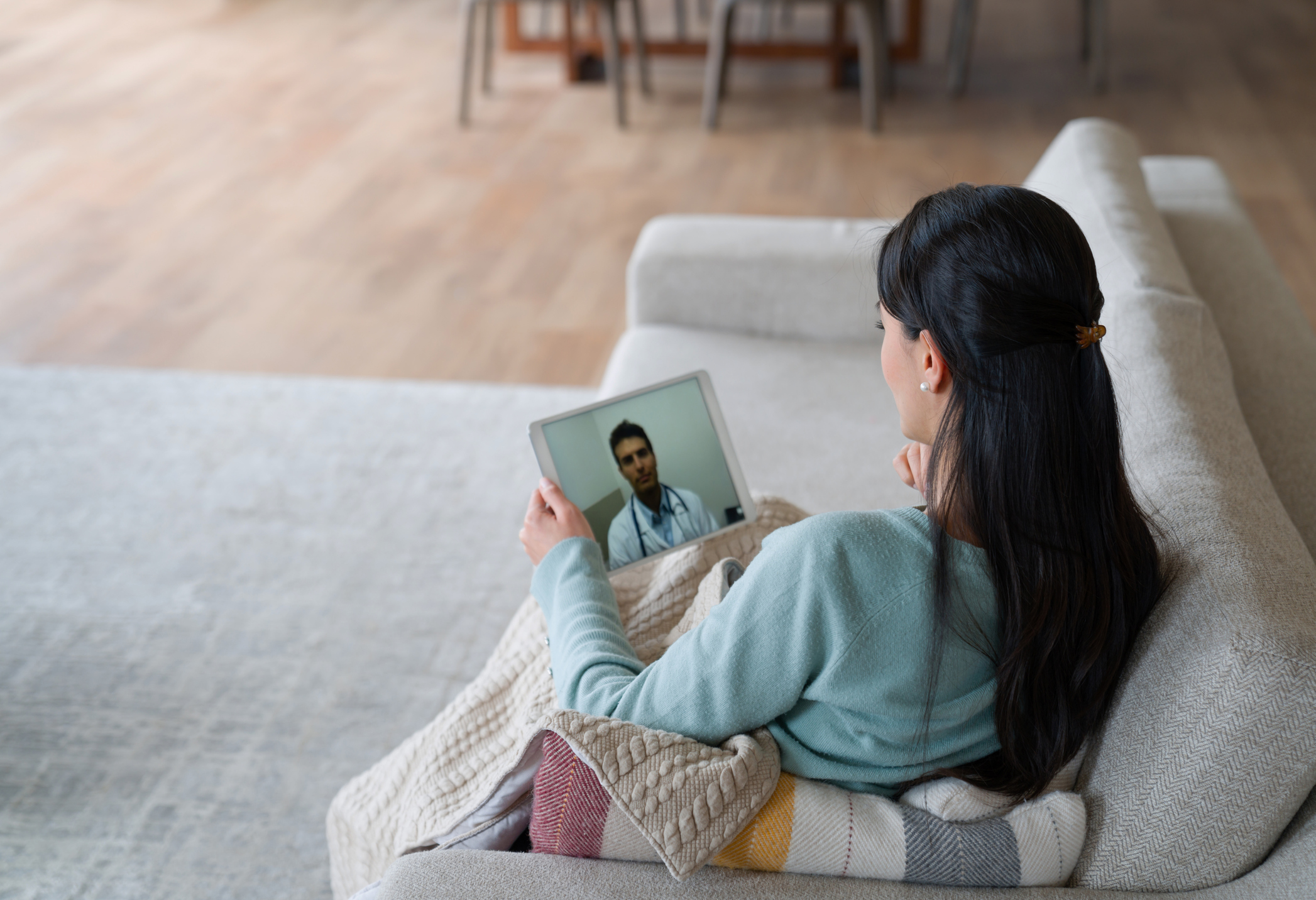 The Growth of Telehealth
Today, people use smartphones for almost everything, from ordering groceries to mapping trips to banking. A sizable percentage also use their phones or computers for doctor visits. Telehealth visits increased significantly in 2020 with the Covid-19 pandemic, and they continue to be popular, especially among adults aged 40 and above. 
Maybe you're skeptical of telehealth because you're not used to it or aren't sure if the type of appointment you need is available remotely. You'll be surprised by the breadth of issues that can be addressed with online doctor's appointments. They're likely here to stay, so it's helpful to understand which kind of issues are suitable for it, as well as the pros and cons of telehealth. 
What You Can Do With Telehealth
Telehealth appointments have opened up opportunities for people to receive a variety of mental and physical health services from home. Patients who have chronic conditions that doctors need to monitor can use telehealth for checkups. Online appointments are also fine for patients who need referrals and for post-surgery checkups, 
Many outpatient mental health services are also available through telehealth. Therapy sessions and some imminent care interventions are examples of services that are available remotely. 
A common concern with users is whether they can get prescriptions via telehealth services. As with in-person appointments, the doctor can send the prescription to whatever pharmacy you specify. 
Benefits of Telehealth
From internet shopping to streaming movies to college classes and work, many activities you used to have to leave the house for can now be accomplished from the comfort of your living room. This is also true of doctor visits. Telehealth has become more popular because of the many advantages to using it.
Convenience is one of the most significant advantages of telehealth. Patients who live in rural areas may find it inconvenient to drive what may be a considerable distance to a doctor, leading to skipped visits. The Centers for Disease Control (CDC) reports that those who live in rural areas are more likely to die of cancer, heart disease and other conditions, making the need for convenient medical attention even more important. When treatment is more readily available, as it is with online doctors' visits, patients can get the care they need.
The time savings is also convenient. Driving time, time spent completing paperwork and the dreaded time spent in the waiting room — all eliminated or reduced with telehealth appointments. 
Some patients may hesitate to try an online doctor's appointment because they're unsure whether insurance will cover a telehealth visit as it would an in-person appointment. The good news is that telehealth is covered by many insurances, including Medicare. The amount of coverage can vary by state and type of insurance, but in general, it's covered just as an in-person doctor's appointment would be. It's always smart to check with your insurance provider before scheduling a telehealth visit, though.
Safety is another benefit. An unfortunate irony to visiting a doctor in person is that doing so can make you sick. With Covid-19 variants and during flu season, you may worry about catching a virus while in a waiting room. This worry is pronounced if a chronic condition or comorbidity makes you more medically vulnerable. With a telehealth appointment, you can see your doctor from the safety of your own home. 
Protection from viruses isn't the only safety advantage to telehealth appointments. In some circumstances, mental health care providers may use telehealth to help patients in imminent need, such as those under suicide risk, someone experiencing an acute anxiety attack, addiction interventions and more. Remote mental health care makes it possible for psychotherapists to help patients when they need it most, even when they can't see them in person.
Besides individual benefits, telehealth has promising societal advantages as well. Online doctors' visits reduce peoples' exposure to others, cutting down on the spread of dangerous viruses, which is a net positive for society. Additionally, doctors are no longer limited by the demographics of their office location. They can see patients from various areas of the state and country, which offers more opportunities for patients to connect with doctors, unencumbered by the challenges of location.
Downsides to Telehealth
Health care is rarely one-size-fits-all. While telehealth has many advantages, it isn't right for every person or in every circumstance. 
Routine visits, prescription refills and other types of appointments fit well into the remote model of medical care, but not every medical issue does. Some medical care requires in-person diagnostic assessments. In those cases, doctors may ask patients to visit a nearby facility that has medical equipment, such as MRI or ultrasound machines. The patient might still see a specialist online, but some part of the process would involve going to a facility in person.
Another negative impact of telehealth is that not all patients are comfortable with or have access to the type of technology required for telehealth visits. Most people own smartphones and computers and have Wi-Fi access, but not everyone. Those who don't would need an in-person visit. Doctors seeing patients online may also require the patient to have a webcam. For instance, during certain dermatologists' appointments, the doctor would need to see whatever skin issue the patient has. Patients without web cameras or who aren't accustomed to using them may need to visit the doctor in person.
Even those who do have all the proper technology may not feel comfortable using it. It could be that they're not used to downloading or navigating the apps that make the online appointment possible. Other possible disadvantages of telehealth may be conditions like arthritis that make it difficult for patients to use a smartphone or keyboard. Some may distrust the technology and worry about how secure their personal medical information will be with an online appointment.
How to Seek Telehealth
Sun Health Center offers telehealth services for many conditions. If you've been hesitating to get help because of the inconvenience or fear of reaching out in person, contact us today at (855) 459-0278 to schedule a telehealth appointment. Our team of caring staff and counselors is available 24/7 to speak with you.  You're one phone call away from starting your journey to mental wellness.