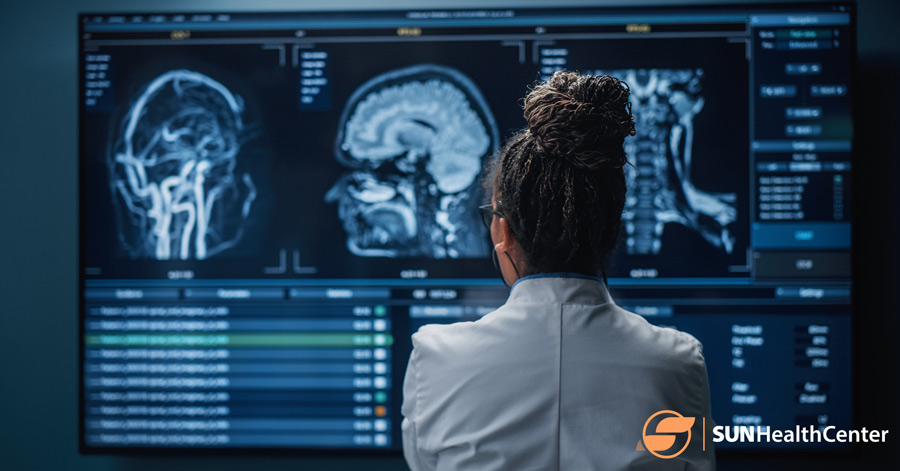 New technology has patients asking for a quantitative EEG for bipolar disorder, depression and other diagnoses. Learn if a qEEG is an accurate diagnostic tool.
Nearly 20% of adults in the United States suffer from a mental illness. Unfortunately, to be diagnosed, patients must often attend months of therapy. But with recent advancements in neurological technology, patients are now seeking diagnoses through a process known as quantitative EEG — bipolar disorder, schizophrenia and depression included.
Since qEEG is a relatively new form of neurotherapy, it's natural to question its effectiveness. To shed some light on qEEGs as a diagnostic tool, here's what to know about the technology.
What Is a qEEG?
To understand what a qEEG is, it's important to first understand what EEG means. Short for electroencephalogram, EEG refers to a type of brain scan that measures electrical activity. This activity is depicted as waves that change in direction and magnitude. An expert can read these changes and use them to identify functions in the brain.
A qEEG is a quantitative electroencephalogram. With this type of scan, the brain waves recorded during the initial EEG are digitally transcribed. Once the transcription is made, experts can analyze the data using calculations, providing a detailed picture of the patient's unique brain function.
qEEG Diagnosis and Brain Mapping
When a qEEG is digitally transcribed, the result is an image called a brain map. This can reveal how quickly the brain performs or responds to stimuli. For example, a person who suffers from anxiety will transcribe differently on a brain map than one who doesn't. Looking at these responses can indicate a normal vs. abnormal qEEG.
Using this transcription and comparison method, neurotherapists can identify a number of neurological conditions within the brain. These conditions can include but aren't limited to:
Epilepsy
Memory loss
Traumatic injuries
Bipolar disorder
Anxiety
Schizophrenia
The ability to detect abnormalities in the brain is one of the main reasons qEEGs have grown more popular with patients who suffer from mental disorders. But are brain maps really accurate when it comes to diagnosing mental disorders? The answer may not be completely clear yet.
Can a qEEG Reveal a Mental Disorder?
It's true that a brain scan can depict abnormalities in the brain. Since mental disorders like anxiety and depression alter the brain on a chemical level, they affect its wavelengths and result in a qEEG that differs from those of individuals without a disorder.
However, qEEGs are still a relatively new technology that has yet to reach mainstream use. So far, they've proven beneficial when used in tandem with traditional diagnostic methods, such as therapy.
In these cases, a patient will see a specialist for a qEEG when they already suspect they have a disorder. The transcribed brain EEG scan will then provide a better picture of the patient's overall mental condition, essentially supporting the diagnosis made by another medical professional.
That being said, some research has suggested that qEEGs can directly identify some mental disorders. One study reported that this technology was especially useful in diagnosing patients with generalized anxiety disorder, though it recommended carrying out more studies in the future.
Another study concluded that qEEG brain maps are best used as a complement to other forms of diagnosis, mainly therapy. However, as more research is gathered, brain mapping has the potential to become a more widely used diagnostic tool.
EEG: Bipolar and Depressive Disorders
In terms of diagnosing specific disorders, qEEGs can provide a layer of accuracy that human diagnosis may not allow. Because these disorders have distinctive chemical effects on the brain, each one appears differently on a brain map.
For example, bipolar disorder and other forms of mania typically result in sharp spikes in brain activity. On a qEEG, these spikes can be identified by their unique symmetry. Because of this, the scan can provide an easy way to distinguish bipolar mania from other disorders, such as schizophrenia.
A qEEG can also identify depression. These scans typically depict greater levels of what experts refer to as "alpha-wave activity." This indicates a reduction in cerebral activity, which is synonymous with psychotic depression. The scans can also show metabolic activity, as well as spikes in adrenaline.
Personality disorders can even be detected by qEEGs. These often appear as greater slow-wave activity, as well as increased activity in the frontal lobe. In these cases, brain maps can predict higher levels of aggression and impulsivity. In adolescents, this type of activity has often preceded antisocial behavior later in life, making an qEEG a potential predictor of such conditions.
Additionally, people with obsessive-compulsive disorder tend to have denser brain waves, as well as a greater number of alpha waves. With this knowledge, qEEG scans might be used to predict a wide variety of mental health conditions.
The Right Way to Use a qEEG
Because research surrounding qEEG use is relatively new, the benefits of the technology are just beginning to reveal themselves. Besides diagnosis, brain mapping is particularly useful for a number of applications during the treatment phase.
For one thing, since each brain map is tailored specifically to the patient, it allows experts to carefully craft an individualized treatment program. This may ultimately speed up the recovery process and reduce the effects of mental disorders.
Additionally, regular brain scans give professionals a means of monitoring patient progress. By conducting brain scans periodically while an individual receives treatment, experts can analyze each one to track the person's progress. If the current treatment method isn't producing any changes, it may indicate the need to try something different.
The ability to monitor changes in brain waves is one of the greatest benefits of qEEGs. With traditional treatment methods such as therapy, it can be difficult to determine whether a patient is improving. On the other hand, a qEEG produces tangible data that can be analyzed and used to assess the success of treatment methods.
Would you like to learn more about qEEGs and other forms of neurotherapy? Visit us at SunHealth Center today.