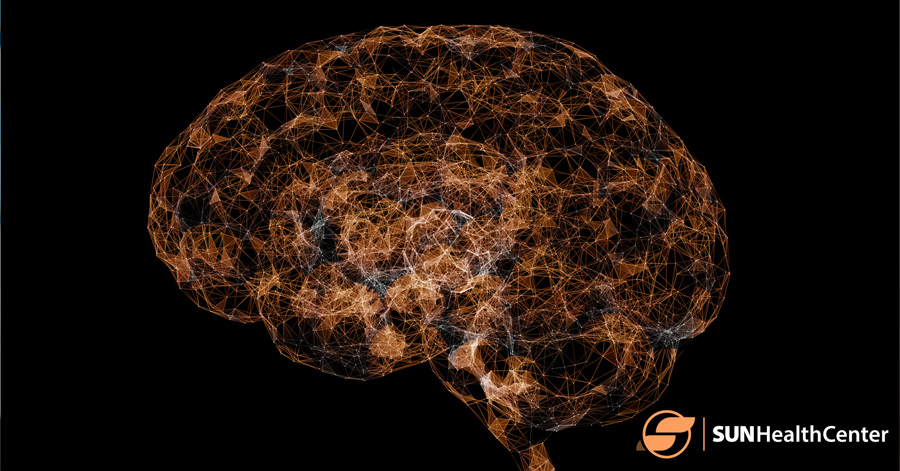 If you are currently receiving neurotherapy, or if a mental health professional has recommended neurotherapy, you may be familiar with the abbreviations "EEG" and "qEEG." These terms are common in the field, and may have been mentioned as a step in your own treatment. But what do they stand for, and what do they mean? What is a qEEG vs. an EEG? In this article, we'll explore the definitions, differences and everything you need to know about qEEG scans, EEGs and what they can mean for your experience in neurotherapy.
What is an EEG?
Let's begin with the standard format. "EEG" stands for electroencephalogram, which is a big word that can easily be broken down into parts. Its prefix, electro-, has roots in a character from ancient Greek mythology: the princess Elektra. "Elektra" translates to amber in ancient Greek. In 1646, Sir Francis Bacon wrote about how the material amber conducts static to attract other object, dubbing it "electric." Encephalon, another Greek word, refers to the head or brain. Gram, of the same origin, is a unit of measurement. So, an electroencephalogram is technology that measures electrical activity within the brain. During an EEG, waves detected in the brain are displayed on a screen. These waves depict both magnitude and direction, showing wider or narrower rises and falls that can occur above or below a baseline. This information is recorded, and then an expert reads the waves to determine what the activity means for overall functioning, as well as whether any diseases or obstructions may be present.
What is a qEEG Scan?
A qEEG is a quantitative electroencephalogram. In this process, an expert takes the information recorded during the EEG and analyzes it in digital form — often referred to as brain mapping. From here, the data from the EEG is broken down into its smallest numbers to get a better picture of the way the brain functions. Computers run these calculations so that the data can be examined on a very precise, miniscule scale, down to a matter of nanoseconds. When the calculations are complete, the so-called map of the brain's functioning is determined through complex analysis that looks at different "voltages" within the brain. What results is called a fast-fourier transform, or FFT. Experts then compare the FFT from the qEEG to a norm for the population using their Z-scores. If there is a difference of two sigma values or more, the expert can confirm the brain shows signs of a performance enhancement or deficit that needs to be addressed.
What is the EEG and qEEG Capable of Showing?
In short, a qEEG can diagnose a number of different neurological conditions. These can include:
Neuropsychiatric disorders
Epilepsy
Stroke
Dementia
Traumatic brain injury
Mental health disorders
However, this list is not comprehensive, and a qEEG scan can indicate plenty of other abnormalities. EEGs and qEEGs can also assist in confirming certain diagnoses, which is why health care professionals may order one for a seemingly unrelated condition. But that's not the only benefit. Because the brain maps crafted by qEEGs are so accurate, they can be used to understand proper functioning in different populations across age and gender.
What is the Importance of the EEG and qEEG in Neurotherapy?
The EEG has a number of functions within neurotherapy. As a therapy centered on brain function, neuropathy requires a thorough understanding of the way in which an individual's brain functions. By taking an EEG and mapping it with a qEEG, health care professionals can create an individualized plan to address their patient's specific needs. Cognitive improvement is essential to overall well-being, and without a deep understanding of how an individual's brain works, a care plan may be missing crucial elements. The EEG is a painless and relatively simple procedure, but its glimpse into the brain is extremely detailed and highly useful. Tracking neurofeedback in qEEGs can make a huge difference in the way that someone is treated. This procedure can be repeated over time to get an evolving picture of how an individual's brain is developing, determine whether certain treatments are working and where more or less effort may be required. EEGs and qEEGs are also important to our overall understanding of brain functions, especially when compared to a control.
The Benefits of EEG and qEEG
Besides crafting a highly detailed map of the brain, the biggest benefit to EEGs and qEEG scans is the instantaneous feedback. The data produced via an EEG is ready to be read and interpreted right away, including the values necessary to create a qEEG. If someone feels they're in a dire situation, they can rest assured knowing their mental health professional can start making a plan and moving forward with treatment immediately. We can look at a qEEG vs. EEG, but the truth is that they're actually two key parts of an overall highly beneficial process. qEEG scans further develop and interpret the data obtained through EEGs. Their practical application in the modern world of neuropathy continues to be of great use to clinicians, especially in treating potentially complex conditions like epilepsy. At Sun Health Center, we can walk you through the process of receiving an EEG and what it can contribute to your neuropathy experience. Our team is equipped to assist and work with you to develop a comfortable, personalized plan for your care. If you have concerns for your own mental health, you feel like your life is spinning out of control or you're just looking to take a comprehensive approach to your care, the team at Sun Health Center is on-call around the clock to get the help you deserve. Asking for help is an important first step in the process and to setting out on the road to recovery. Contact us today to find out what your personalized journey may hold.