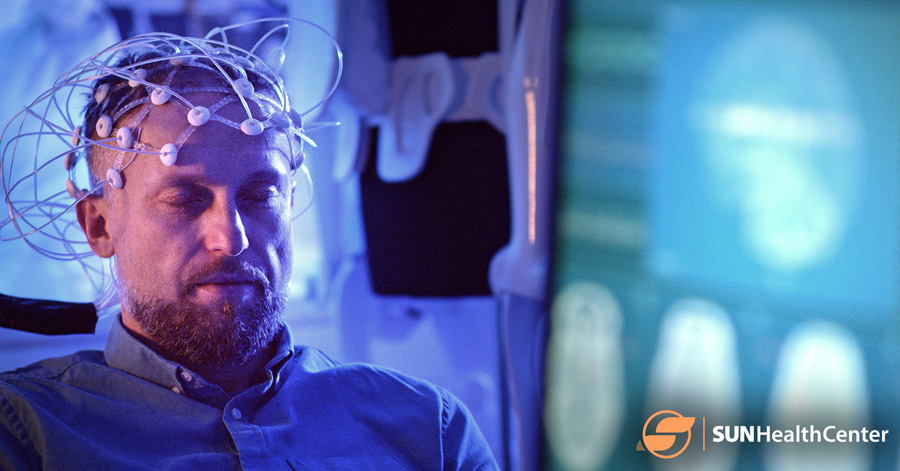 Neurofeedback is a relatively new treatment option for those struggling with their mental health, and has shown a great deal of promise. Plenty of people are excited to try the latest innovations in technology to advance their well-being. But is neurofeedback everything the advocates say? Does it provide the benefits it claims to, and can it do so without negative side effects? We hope to answer these questions, alleviate concerns about neurofeedback-related bad experiences and help you to decide if neurofeedback is the right option for you. With neurofeedback's rapid growth and increasing popularity, concerns are to be expected. Clearing up the common misconceptions about this field of technology and its impact on mental health is crucial to discovering the truth.
Neurofeedback vs. Electroshock Therapy
One of the biggest misconceptions to date is that neurofeedback and electroshock therapy are the same thing. As electroshock therapy has a great deal of negative history associated with it, it's understandable that people would balk at considering neurofeedback for them. However, these treatments are not the same at all. Electroshock therapy uses small amounts of electricity passed through the brain to achieve results. When it originated in the 1940s, electroshock therapy involved intense levels of electricity passed through the brain to cause behavioral change. Modern electroshock therapy is performed while the individual is under general anesthesia, and side effects include minor nausea, fatigue, headache, confusion and memory loss. This differs profoundly from neurofeedback, which does not involve using electricity to alter any aspect of the brain. Instead, neurofeedback treatment monitors brain waves as they naturally occur in order to reinforce healthy functioning. Operant conditioning is used to "convince" the body to execute its proper functions instead of continuing to operate inefficiently.
Understanding Neurofeedback and Bad Experiences
The side effects of neurofeedback are generally not problematic; however, some people do have neurofeedback bad experiences. We can divide these side effects into iatrogenic, specific and general side effects.
Iatrogenic Side Effects
The first, iatrogenic side effects, occur as a result of improper administration of neurofeedback treatment. This occurs when the individual performing the procedure is improperly trained or not properly supervised, especially if they are new to the process. All Sun Health Center professionals are highly trained in the execution of all forms of therapy and treatment, including neurofeedback, so iatrogenic side effects do not occur.
Specific Side Effects
Next are specific side effects, which may include:
These side effects are uncommon, and neurofeedback is generally used to relieve these feelings instead. However, there have been cases in which individuals undergoing neurofeedback treatment have had bad experiences with these and the general side effects discussed below.
General Side Effects
Finally, the most common neurofeedback bad experiences are:
Fatigue
Headache
Head pressure
Low energy
Muscle tension
Anxiety
These side effects generally clear up within the first five sessions, and those being treated with neurofeedback in the long term experience them significantly less than those beginning their treatments. If they do occur, these side effects are generally mild overall.
When Side Effects Occur
In general, most side effects of neurofeedback occur due to improper administration of the process. When healthcare professionals are properly trained and supervised, these side effects are far less likely to occur and, if they do, will be mild. So can neurofeedback make you feel worse? Maybe you've heard bad things about neurofeedback, but those experiences likely took place with improperly trained administrators. By working with an administrator that is fully trained and aware of the best ways to administer neurofeedback, it is possible to mitigate or completely eliminate these side effects.
The Neurofeedback Spectrum
Neurofeedback conditioning is done on a spectrum, which means that each experience implements a slightly different process. Neurofeedback treatment is tuned to the individual, ensuring the right level of conditioning is producing the best possible results. As a result, there will be a process in adjusting the treatment to be just right. If the desired effects don't appear in the beginning, the neurofeedback can be "turned up" to achieve better results. If side effects occur, the neurofeedback can be "turned down" to reduce them. Patients are asked to provide feedback throughout the experience to detail what they are feeling and if any side effects occur. At Sun Health Center, personnel pay close attention to individual reports to make sure neurofeedback treatment is taking place safely and productively.
Is Neurofeedback Right For You?
A medical professional can help to determine whether neurofeedback is right for you. Just like any form of treatment, it won't work for everyone, but can make a major difference in mental health for those it does. Those who have heard bad things about neurofeedback should contact their doctor or a medical professional to learn more about the realities of the experience. Checking in with the professional team that will administer the neurofeedback can also help you feel more at ease. While there have been neurofeedback bad experiences, they are far less common than the anecdotes you may have heard suggest. Side effects are typically mild and will clear up in a short period of time. For those who do have more intrusive or more serious effects, these will generally revert back to normal over time. Overall, the results show that neurofeedback is a positive experience for its participants. It has produced excellent results and continues to show promise as a method of advancing and improving mental health.
Treatment with Sun Health Center
Sun Health Center offers neurofeedback and other therapies to assist patients with their mental health concerns. The Center provides support and assistance to patients of all backgrounds to aid them in reaching their full potential and a healthy and happy life. Contact us 24/7 to find out more about the options for neurofeedback and other therapies with Sun Health Center. Start improving your life today.