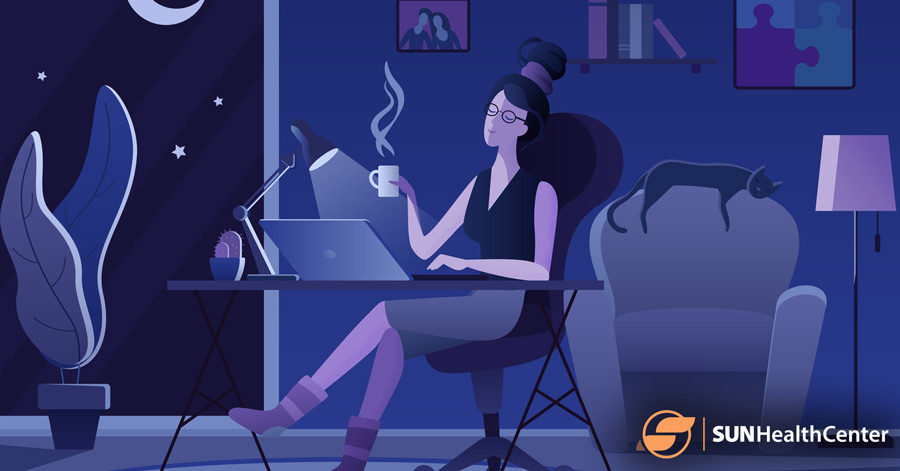 It might surprise you to find out that sleep patterns have a massive impact on depression. We've all heard the expression "the early bird gets the worm." There's a belief that people who go to bed early and rise early are more productive, energetic and overall happier. Conversely, those who stay up late are grumpier and lazier. So, that might leave you wondering whether a night owl faces a higher risk of becoming a "depression owl." You could say that a depression owl is someone who is at risk for depression or suffers from depression due to their poor sleeping habits. But is that truly something that happens? Or does depression simply disrupt our sleep? Read on to learn more about sleep patterns and what they have to do with depression.
Sleeping Patterns and Our Mental Health
Sleep plays a major role in our mental health simply because our bodies and minds need proper sleep to function well and stay healthy. There is a direct correlation between a lack of sleep and worsening physical and mental health. A
lack of sleep can contribute to
anxiety, depression and even suicidal ideation. Healthy adults need an average of
7-9 hours of sleep
a night. Sleep loss can alter a person's mood, causing them to be irritable, angry and unable to cope with stress. If this continues for too long, insufficient sleep can cause mental health issues and worsen the person's immune system.
What Does Our Mental Health Do to Our Sleeping Patterns
In addition to correlation, there is a cyclical pattern between lack of sleep and mental health problems. A lack of sleep can cause new mental health problems to emerge or worsen existing ones. At the same time, mental health problems themselves can lead to a lack of sleep. For example, anxiety can cause worrying thoughts that keep you awake. You then begin to worry about your lack of sleep, which can increase your anxiety and further stop you from sleeping. Some common examples of how sleep plays a role with depression are:
Staying up late for reasons caused by depression. A depressed person may feel lethargic and unmotivated, so even the idea of going to bed sounds exhausting. Or, they want to distract themselves from negative feelings, so they can stay up watching television, for example.
Sleeping too much because of depression. When someone is depressed, simple tasks like showering and eating can feel like monumental hurdles. Instead, the person stays in bed and sleeps all day as they don't have the motivation to get up. In which case, they might even go to bed early because of depression.
Feeling Depressed only at night. Everyone experiences depression differently. Some people find that their depression intensifies or only comes through at night. This could be for various reasons but it can also lead to or intensify insomnia, further intensifying the depression.
Is Being a "Depression Owl" Real?
So, are morning people safe from depression? Does waking up early help with depression? No. A lack of sleep can intensify depression, but it won't be the sole cause of depression. And getting up earlier in the day won't magically cure someone's depression. If that were the answer, there probably wouldn't be
17.3 million adults in the United States
who suffer from depression every year. If you're a night owl questioning whether going to bed late contributes to your depression, the answer is maybe. A new study has found that morning people are at a
23 percent lower risk
for developing major depression. However, it's honestly probably not quite so simple. Of course, this lowered depression risk could also be because morning people may be getting more sunlight, exercising more, spending more time with their families, or other external factors. It's difficult to say how much of an impact going to bed late will have on a person's mental health. In many cases, people probably have sleep issues and go to bed late because of their depression. Sleep disorders are a core symptom of depression. People with depression are more at risk for sleep disorders such as insomnia, hypersomnia and obstructive sleep apnea.
One study
found that 75% of patients who are depressed also have insomnia. Many people with depression go back and forth between insomnia and hypersomnia. So, rest assured that sleep problems when you're dealing with depression are common. There's likely no need to force yourself to be a morning person if you don't want to.
Dealing With Depression and Sleeping Problems
Since sleeping problems and depression are so linked, it's unlikely that forcing a change to your sleeping patterns will have an effect on your depression. What's more is that your depression may even make it impossible to change the way you sleep. Ultimately, your depression will need to be addressed to help you improve your sleep and overall mental health. Depression is pretty common and can be devastating if left untreated. It's not a condition that people pull themselves out of easily on their own. However, the good news is that it's treatable. Depression is typically treated with therapy or medication, or a combination of the two. Your treatment plan will be personalized to your needs and preferences. For example, you can decide if antidepressants are something you wish to try or opt out of. Seeking professional treatment is important. Someone suffering from depression for an extended period can eventually get to a dangerous place where they stop taking care of themselves, turn to substances to cope and even engage in suicidal ideation. If an individual is also experiencing sleeping problems, it can often compound and worsen the existing symptoms of depression.
Find the Right Treatment for You at Sun Health Center
You don't have to live with the dark cloud that's currently in your head. Depression is a curable disease, and treatment is much more accessible than you think. At Sun Health Center, we work with every patient on an individualized treatment plan that helps them get the treatment they need.
Find out about our unique brain optimization approach
to mental health conditions now.