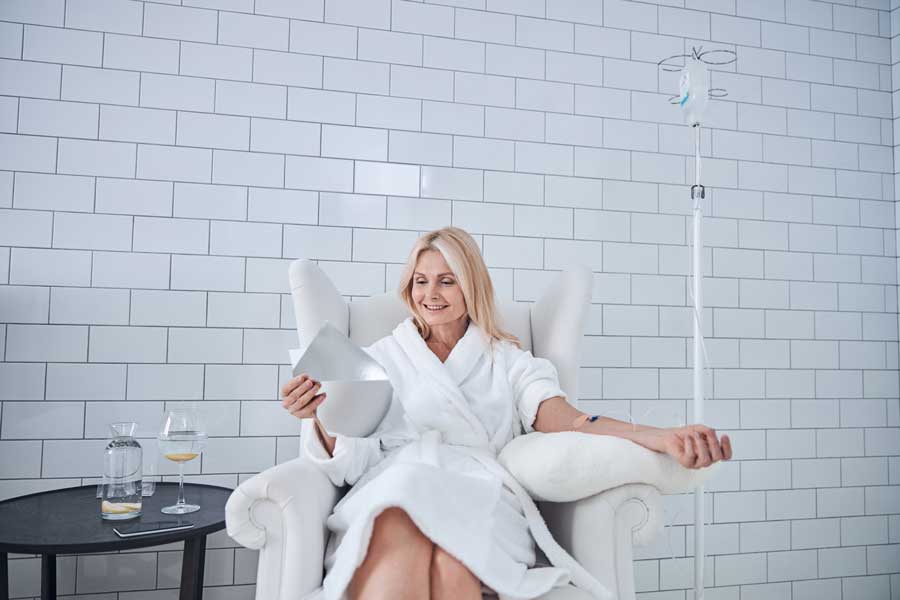 You may have heard about the rising popularity of med-spas offering IV therapy to treat skin conditions, promote weight loss and aid in physical recovery. But did you know that IV therapy can also be used to help people recover from addiction? This guide reviews everything you need to know about med-spas, including the downsides and benefits of IV therapy.
What Are Med-Spas? 
A med-spa is a combination of a traditional clinic and a day spa. They're becoming more popular lately because people can receive non-invasive treatment for a variety of purposes ranging from weight management to the treatment of skin disorders and the elimination of toxic chemicals from the body.
The American Med Spa Association
states that a facility must meet the following criteria to be considered a med-spa:
Treatment must be non-invasive.
All treatments must be supervised by a licensed medical professional.
Employees receive special training for the administration of IV therapy.
The facility must be associated with a licensed physician.
What Is IV Therapy? 
When someone goes to the hospital, they often receive medication and saline solution through an IV so they remain hydrated while receiving medical care. Outpatient IV therapy is similar but occurs in a private setting. IV therapy uses intravenous fluids to treat a variety of medical conditions. These fluids can rehydrate the body, infuse the blood with vitamins or help the body eliminate toxic chemicals.
IV Hydration Therapy Benefits 
One of the original uses for IV therapy was to keep patients hydrated, as many people suffer from poor health because they have medical conditions that make it more difficult to stay hydrated. IV hydration therapy doesn't just return water to your body; it also injects electrolytes that are often lost when the body expels too much water. It can be especially useful for anyone who's taking diuretic medicines.
Vitamin IV Therapy Pros and Cons 
Some people suffer from vitamin deficiencies that impact their overall health and well-being. Supplements aren't always effective because many of them are lost in the digestive tract. Vitamin IV therapy delivers these vitamins straight to the bloodstream, assisting with bioavailability. They act fast and patients often feel the effects quickly. The downsides are cost, time and the delivery method. You need to arrange an appointment with a licensed doctor to receive treatment, and it can cost up to $100 per vitamin each time you visit. An IV treatment takes up to 30 minutes of your time, while taking a supplement is as simple as swallowing a pill. Other potential downsides are that this type of therapy is very new, so scientists don't yet know if there are any side effects or if they're effective in the long term. While IV therapy can provide short-term benefits, it can't replace lifestyle changes that promote good health.
Four IV Therapy Benefits 
There are many potential benefits to receiving IV therapy treatments. The primary ones to consider include:
Treats Hangovers Effectively
Hangovers can drag you down after using alcohol or drugs and make it more difficult to kick your habit. In addition to headaches and lost energy, a hangover can cause dehydration, muscle aches, poor concentration and nausea. Hangovers impact your interactions with other people and how you perform at work because they affect your mood and ability to remain focused on your work responsibilities. IV therapy helps the body eliminate toxins. People who have abused alcohol or drugs may recover faster when receiving IV treatments, because treatments clear the blood from the toxins that trigger withdrawal symptoms. Detox is one of the first steps in any recovery plan, and IV therapy can help make this step easier and faster.
Aids Weight Loss 
IV therapy can help people control their weight more effectively. Some treatments provide vitamins and compounds that boost the metabolism, while the added hydration can help the body eliminate fat. People who have cardiovascular disease may receive an added benefit because IV therapy helps with circulation and reduces stress on major veins and arteries.
Increases Energy and Well-Being 
IV therapy can increase energy levels. Many people who suffer from depression or anxiety find the boost to their energy and focus beneficial because it helps them overcome mental health states that keep them from living the life they want. Anyone who's trying to make significant changes to their lifestyle by changing their diet and exercise routines can appreciate having extra energy throughout the day to hit their goals.
Customized Treatments 
After performing thorough blood work and identifying key vitamin and mineral deficiencies, physicians can create custom cocktails for patients. Everyone has different needs, so no two IV therapy treatments are the same — you receive the specific vitamins you need. Patients with anxiety can receive treatments focused on helping with relaxation, immune health and the treatment of insomnia, while those with conditions such as celiac sprue or Crohn's disease can receive treatments that aid with their symptoms.
How IV Treatment Can Aid in Addiction Recovery 
Sun Health Center offers IV therapy as a treatment option for people looking to overcome an addiction to drugs or alcohol. When used in combination with other forms of treatment aimed at addressing the root causes of addiction, IV therapy can help you recover faster. The primary benefit of our IV therapy treatments is that they help you detox much faster than allowing toxins to leave your body naturally. Once the drugs are eliminated from your system, it becomes much easier to address the psychological need to return to substances. We consider the role mental health plays in addiction recovery and explore ways you can develop coping mechanisms, reach out for help when you're struggling and turn your focus toward positive goals in your life. Give us a call at (855) 459-0278 or fill out
our contact form
to learn more about how you can take the first step toward recovery. Our counselors understand what you're going through and are here to offer the support and guidance you need to change your life for the better.