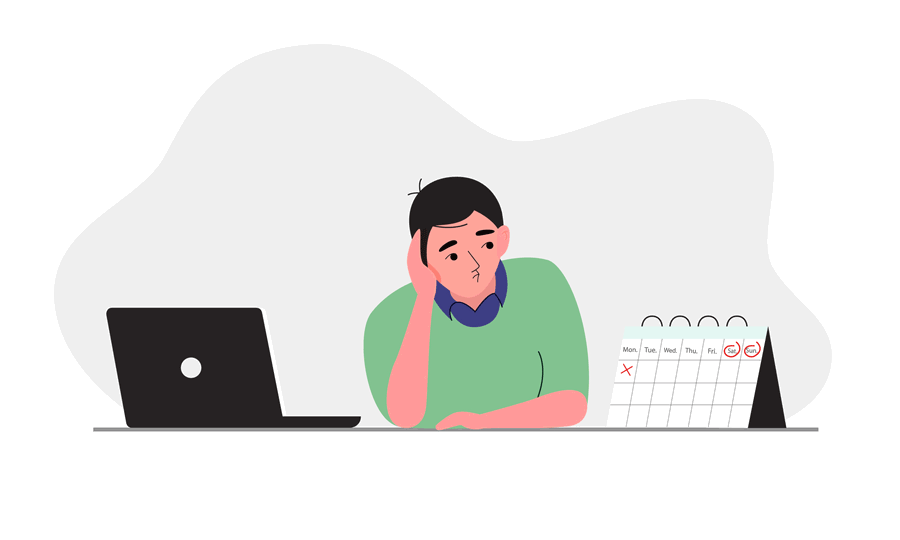 Some days, starting and finishing simple tasks can be challenging. It's easy to get distracted by digital devices, social media or problems in your personal life. Other times, it's a pure lack of motivation or desire to do anything that results in a day of low productivity. This is okay once in a while, but if it occurs regularly, you may need to find a solution to improve your drive and ability to get things done. Is avolition, lack of motivation, a medical condition with treatment options available? Find out whether taking a prescription medication can help solve your motivation problem.
What Is Avolition?
Avolition is a complete lack of motivation in all areas of life that makes it challenging to accomplish everyday tasks. People experiencing avolition may exhibit little to no enthusiasm or joy for life. They are also likely to withdraw from social activities due to a lack of interest and don't experience the typical euphoria of completing a task or meeting an objective. Someone with avolition lacks any desire to set or achieve goals for themselves and may feel like they have low physical energy levels in addition to their low or indifferent emotions. Signs and symptoms of avolition can include:
Lack of grooming and personal hygiene
Poor attendance at events, workplace meetings or social gatherings
Failing to pay bills on time or at all
Not responding to calls, texts or other messages from loved ones
If you are experiencing avolition as a symptom of another disorder, it's possible that you'll be unable to recognize these signs. If you notice these indicators in a loved one, encourage them to seek professional help or a mental health diagnosis.
Is There a Medical Condition That Causes Avolition?
Avolition is often mistaken for depression but is not a diagnosable medical condition. As a result, it doesn't have a prescription medication that acts as a solution. While avolition alone is not a mental illness, it can be associated with other mental health conditions requiring professional treatments and medications. When a mental illness causes avolition, treating that illness through therapy or medications can result in improved motivation. The most common mental illness that causes people to experience avolition is schizophrenia. A 2015 study examined the connection between schizophrenia and lack of motivation in terms of participants' willingness to exert effort for monetary rewards. Another study found that people with schizophrenia were not engaged in activities that required more than sitting 88% of the time. Their healthy control counterparts were up to three times more active. Other mental health disorders that can cause avolition include:
Bipolar disorder
Premenstrual dysphoric disorder (PMDD)
Alzheimer's disease
Traumatic brain injury (TBI)
Persistent depressive disorder (dysthymia)
Posttraumatic stress disorder (PTSD)
If you believe you are experiencing avolition due to a mental illness, it's important to consult your doctor. They can offer treatment options, prescribe medications to manage the condition and help you get your life back on track.
Medications That Help Lack of Motivation
At present, no prescription medications are available specifically for treating avolition since it alone is not a diagnosable disorder. However, medications are available to treat the conditions that can cause avolition as a symptom. Seeking the necessary medical help for mental health disorders such as bipolar disorder, schizophrenia or PTSD means receiving medication or a combination of treatment options that reduce or eliminate lack of motivation. The types of medications doctors prescribe for conditions causing avolition vary by condition. People with bipolar disorder may receive a prescription for mood stabilizers such as lithium or valproic acid, while people with schizophrenia are typically prescribed antipsychotics. Clozapine is commonly prescribed for schizophrenia, with a 30% efficacy rate for controlling schizophrenic episodes in treatment-resistant patients. Besides prescription medications to treat the condition causing avolition, individuals can look into other wellness solutions such as talk therapy, group therapy or even neuro therapy. Like the program from Sun Health Center, neuro therapy can help manage a wide variety of mental health disorders, including PTSD, attention deficit hyperactivity disorder (ADHD) and anxiety. Although it's an extreme lack of motivation, avolition may be confused with ADHD and the inability to focus.
When To Seek Intervention For Lack of Motivation
Knowing when it's time to find professional treatment for lack of motivation can be challenging, especially since avolition can feel like you have low energy or are experiencing laziness. However, if your lack of motivation interferes with your ability to function at work, in your relationships or in other areas of your life, it's time to seek help.
Avolition vs. Laziness
How do you know when you're experiencing a lack of motivation to do anything resulting from avolition rather than extreme laziness? Laziness and avolition are not alike, and you can check in with yourself to see which one you're experiencing if you understand their differences. Laziness is a willful choice not to do something or anything. It can occur when a mental health disorder isn't present, possibly for a short period. In contrast, avolition is a sense of apathy toward life. There is no motivation or excitement to complete tasks because the individual doesn't experience a reward or enjoyment when they meet a goal or finish a job. If you feel this sensation for a prolonged period, seek professional help. You may be experiencing avolition as a result of a mental health disorder.
Get Your Motivation Back
At Sun Health Center, we offer treatment options to help individuals living with PTSD, ADHD, anxiety and other conditions improve their symptoms and start the path to recovery. Whether you want to try neuro therapy to combat avolition resulting from schizophrenia or IV Ketamine therapy for depression, our team is ready to support you every step of the journey. Call us today at (877) 258-1697 to find treatments that benefit you.