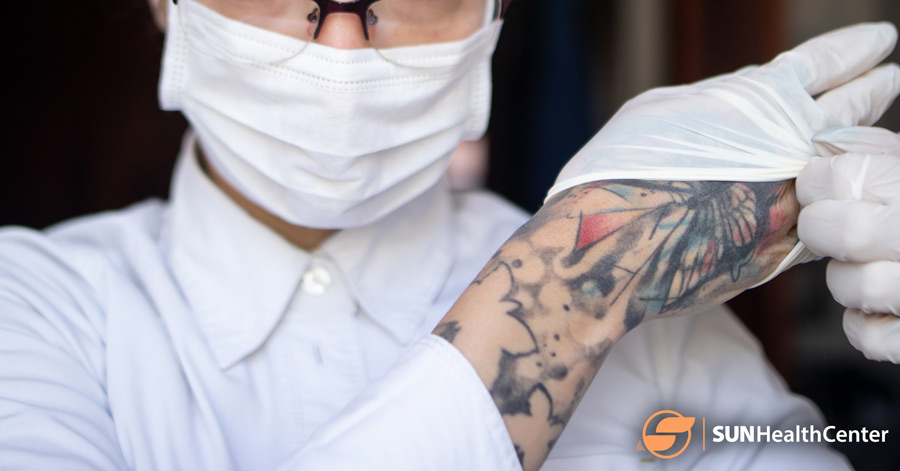 What Is a Medical Tattoo?
As their name implies, medical tattoos are images, words or symbols permanently injected into the skin with specialized needles and body safe inks. Unlike strictly ornamental tattoos, however, medical versions are intended to relay important information about the person wearing them. This may be as simple as allergies to common medications or as complex as indicating a lifelong immunocompromised or diabetic status. Some individuals, such as Emergency Medical Technicians or nurses, opt for medical tattooing to denote their connection to medical or health care-related fields. These types of tattoos are not intended to designate individual health care information, but can be helpful for self-identifying as a medical expert in an emergency.
Why Do People Get Medical Tattoos?
While the reasons behind any tattoo always have an element of personal choice, there are several reasons that wearers opt to get this unique body art. The most common reason is for peace of mind in an emergency. In a life-threatening situation, a tattoo that would be immediately visible to first responders, such as a wrist, arm or chest, can help secure fast, efficient triage care by communicating information like allergies or even blood type. If the wearer is afflicted with a health condition that could render them unconscious or unable to communicate clearly, these tattoos can help bridge the gap. A diabetic tattoo, for instance, can let the wearer communicate that they likely need blood sugar assistance just by flashing or tapping the tattoo rather than trying to speak, sit up or move in a crisis scenario. While these pieces of body art can help clarify needs in an emergency, they should not be relied upon as the only method of doing so: tools like medical information cards, medical records and emergency contacts are necessary as well.
Tattoos for Medical Information
When an individual has a lifelong condition, such as profound deafness or hearing loss, continually explaining their abilities can be difficult in fast-paced situations. Medical tattoos of symbols are very helpful for quickly and easily getting everyone on the same page, even if there is a language barrier as well as hearing and deaf communication boundaries. A popular tongue-in-cheek tattoo favored by the deaf community is a small black icon of a speaker with an X behind it, similar to the familiar computer symbol for "sound turned off." Inked behind the ear, this symbol allows a wearer to indicate their hearing status by simply turning their head or their ear forward. Another aspect of medical tattoos is those that declare the wearer's wishes for their health care. For example, indicating that one is an organ donor will help save many lives if the worst should happen, eliminating the uncertainty of hunting down a driver's license or next of kin. Be aware that just because a wish is permanently inked on the skin doesn't mean it's automatically legally binding. While so-called Do Not Resuscitate (DNR) tattoos have become popular in recent years, they represent a wide legally gray area. A DNR tattoo will not offer the same universal protections and guarantees as a physical, legally filed DNR form.
Medical Tattoos as Treatment Tools
Permanent ink can also help health care practitioners when worn as a type of shorthand summary. Depending on the wearer's desire to display the information, critical components of treatment are inked somewhere visible to help eliminate dangerous mistakes. Critical components include the location of a biosensor device or the presence of a pacemaker. Even when a patient is fully conscious and able to communicate this information, the added emphasis of a visual reminder keeps things running smoothly during treatment or triage. Tattoos are being used in health care treatment. Radiation tattoos, a type of permanent ink used for chemotherapy patients, are added to the skin to help technicians properly focus chemotherapy tools and treatment. These tattoos help minimize exposure to harmful elements, keeping treatment narrowed to the areas of concern for radiation treatment for cancer. Diabetes technology is also progressing by leaps and bounds, with current experimentation involving electronically compatible ink that may help deliver regular blood sugar readings without the need to draw blood. While one needle will be necessary to make the diabetic tattoo, this advancement represents the potential for a positive quality of life upgrade for those used to diabetes testing themselves regularly. If a working technique is implemented, it represents the opportunity for diabetics to test consistently without the need for expensive supplies, test strips or painful fingertip jabs.
Medical Tattooing as Postoperative Care
While special care and techniques are necessary to tattoo over scar tissue, tattoos can still be used to help improve aesthetics during healing. Using flesh-colored inks, skilled tattoo artists can help minimize the appearance of scar tissue or certain medical discolorations, helping wearers feel more confident. Realistic nipple tattoos are also growing in popularity with patients healing from breast reconstruction surgeries, as many need to have them removed as part of the surgery. While two-dimensional in texture, artists use unique techniques to make the skin appear three-dimensional, restoring a 'pre-surgery' look for the tattoo-wearer. When a postoperative medical tattoo is being considered, patients should always check with their medical team first. Certain medications and conditions make getting tattoos a potentially bad idea, and a waiting period may be required for safety purposes. Ongoing medical treatment, such as chemotherapy, may also complicate the usual timeline of healing after a tattoo is applied.
Get Help from Sun Health Center
Whether you're considering getting a medical tattoo or need some help with your recovery, current addiction or another medical concern, help is a simple phone call away. The team at
Sun Health Center
is here to help. We're committed to helping you create and maintain a healthy mental space for healing, and it starts by calling (877) 258-1697.