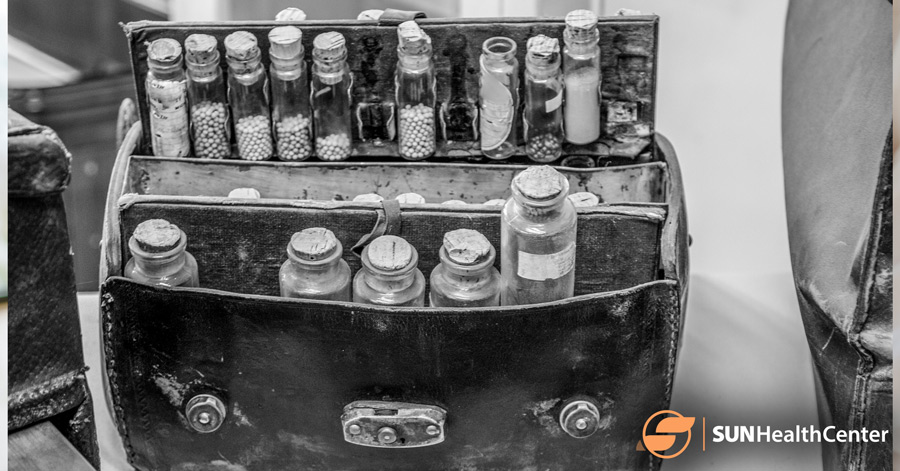 Antidepressants are medicines used to treat a variety of mental disorders, such as depression, anxiety, OCD, PTSD, eating disorders, chronic pain and addiction. While the present class of drugs works on neurotransmitters such as serotonin to manage and improve mood in depressed patients, the earliest medications for mental disorders were a far cry from the scientific and therapeutic frameworks we use to treat mental disorders today. We now know the importance of taking medications and motivating others on how to improve medication compliance, but for many years depression medication didn't even exist as the illness was thought to be caused by demons and devils. Let's take a look at how depression medication evolved into what we know of it today.
The History of Depression and Its Medications
Depression as we know it has existed for centuries, the earliest written record of it existing from the second millennium B.C.E in Mesopotamia. Such early records of depression typically explained it as a spiritual problem rather than a mental one and believed it was caused by supernatural forces. Naturally, then, the cure for depression was sought by priests rather than doctors. Demonic possession and the negative effects of evil spirits were treated with physical restraint, beatings, ritual exorcisms and seclusion. Over time, Greek and Roman physicians began to see depression as a psychological illness and prescribed poppy extract, exercise, baths, bloodletting, diet changes and music as potential cures.
Hippocrates
, a Greek physician who lived in the 4th century BC believed that depression or melancholia was caused by an imbalance between four bodily fluids: yellow bile, black bile, phlegm and blood. The Middle Ages further perpetuated the idea of depression as an illness caused by demons, spirits and witches and symbolized the wrath of god. Consequently, witch burnings, starvation and drownings were very common ways of dealing with the mentally ill. It was only from the 19th century onwards that depression began to be seen as a mental and psychological illness. Even in the 17th and 18th centuries, depression was treated with grotesque treatments such as bloodletting, locking up, isolation, spinning, lobotomies, electroshock therapy and water immersion. It was Sigmund Freud, in the 20th century, who developed the first modern form of therapy for depression: talking. He believed that "loss" was at the root of the illness and that talking about it could help patients.
Early 20th-Century Solutions
Two chemists researching the cure to tuberculosis at Sea View Hospital on Staten Island in 1951 came upon two new compounds, Isoniazid and Iproniazid. While they failed to treat TB, researchers at the hospital found the drugs had beneficial effects on patients' mental states. It was found that the two compounds helped inhibit or block monoamine oxidase or MAO. MAO inhibition helped restore chemical messengers like serotonin, norepinephrine and dopamine in the brain leading to improved mood, better appetite and better sleep. So isoniazid and iproniazid became the first components of what we know today as antidepressants. By 1957, psychiatrists also discovered the therapeutic properties of tricyclic antidepressants (TCA). Imipramine, discovered by Swiss researchers, was shown to help with depression, allowing patients to experience euphoria. Both TCAs and MAOIs were used throughout the 50s to treat depression despite side effects such as elevated blood pressure, sluggishness, weight gain and liver damage.
Advent of SSRIs
By the 1980s, there was intense discussion about neurotransmitters in the brain and the role they play in affecting patients' moods. With this emphasis, scientists began exploring the role played by the neurotransmitter serotonin, an imbalance of which could possibly cause depression. Drugs began to be designed to change the concentration of serotonin in the brain, improving a depressed patient's mood. This is how SSRIs or Selective Serotonin Reuptake Inhibitors were born, the most popular of which was fluoxetine hydrochloride — sold as Prozac, Zoloft, and Paxil. Because SSRIs also lead to fewer side effects than MAOIs and TCAs, they soon became immensely popular. Other SSRIs include paroxetine, sertraline, citalopram, escitalopram and fluvoxamine. While SSRIs have allowed many patients suffering from depression a much better quality of life, there are still several side effects that they have to deal with. Common side effects include nausea, insomnia, sexual dysfunction and dizziness. Additionally, antidepressants are known to magnify feelings of depression before they finally begin to help. The process takes several days and sometimes weeks. Lastly, not all patients with depression respond to medications.
How to Improve Medication Compliance for Antidepressant Treatment
While we understand depression as a chemical imbalance in the brain, research has shown that depression is far more complicated than that. Different depression patients present with markedly different brain chemistries and structures that don't fit neatly into our theory about depression being the result of a chemical deficiency. Recently, the development of ketamine as a possible treatment for depression has thrown up insights into multiple chemical messengers (and not just serotonin) in the brain that regulate mood. In 2019, the FDA in fact approved Spravato (esketamine), a nasal spray as a potential treatment for severe depression. For psychiatrists, the focus these days is to understand how to convince someone to take medication and to improve medication compliance in mental health. Since many antidepressants are slow to take effect and leave patients with side effects, it is important to take medication at exactly the time prescribed and in the dosage prescribed by the doctor. Medication compliance in mental health can be the difference between successfully managing depression and continuing to struggle with it.
Help to Recover From Depression Is Available
At the
Sunhealth Center
in Deerfield Beach, FL, we specialize in helping our patients achieve comprehensive recovery using the latest technologies and medication compliance. Our outpatient services include neuro therapies, ketamine therapy, IV therapy and teletherapy. If you think you or someone you know is suffering from a mental disorder, contact a medical professional today and get the help you need to get back to living a wholesome and happy life.