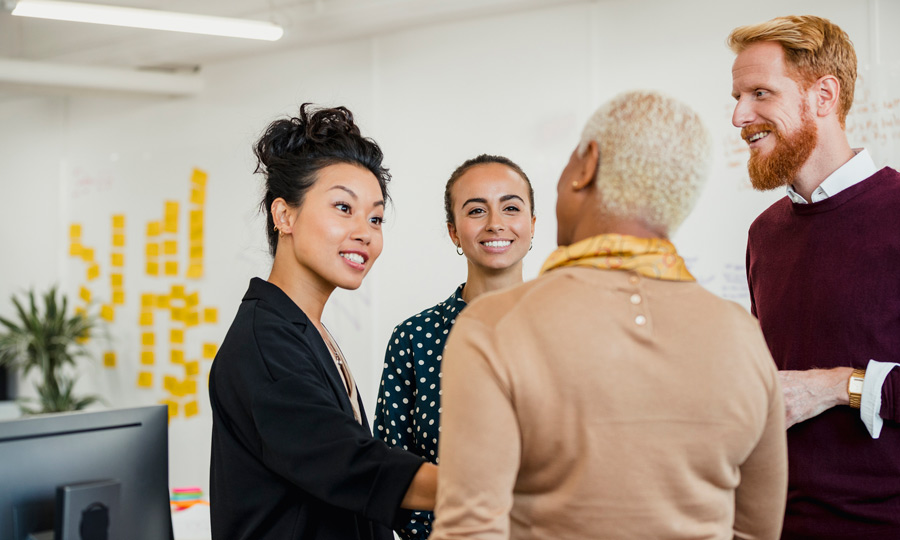 Listening is a skill that's often underrated but crucial for good leadership. When leaders listen effectively, they can gather vital information to help them make better decisions. Good listening skills can also help improve relationships and build trust within the organization. Leaders who are skilled in active-empathetic listening
positively affect their team's accomplishment
and energy. On the other hand, poor listening can also lead to misunderstandings and conflict. Read on to learn why effective listening is important, the difference between passive and active listening and some tips to improve your leader listening skills.
Benefits of Effective Listening for Leaders and the Team
Listening is about hearing what someone is saying and, more importantly, understanding their message. Effective listening requires patience, concentration and empathy. For leaders willing to put in the effort, the benefits of being a good listener can be significant. Here are some benefits effective listening can bring to the organization:
Allows Leaders to Gather More Accurate and Comprehensive Information
When leaders listen carefully, they can pick up on essential details they might have otherwise missed. For example, an employee may mention a minor problem that, if left unaddressed, could develop into a more significant issue. By catching these things early on, leaders can nip them in the bud before they cause any real damage. Furthermore, effective listening can help leaders confirm their understanding of a situation before taking action.
Helps Build Trust and Rapport Between Leaders and Their Employees or Team Members
When you actively listen to your team, it shows that you respect them and value their ideas. This encourages them to share more openly and inspires them to become effective listeners themselves, leading to increased trust and better collaboration within the entire team.
Can Lead to Creative Solutions and Better Decision-Making
When employees feel their leaders listen, they're more likely to open up about their ideas and suggestions. This willingness to share openly leads to a flow of information and new perspectives, which are essential in developing creative solutions that drive business growth.
Passive Listening vs. Active Listening
Passive listening is the act of hearing without comprehending. In other words, passive listeners only focus on the words being spoken without trying to understand the speaker's message or intent. This type of listening often leads to misunderstandings and should be avoided in most situations.
Active listening
, on the other hand, is a more dynamic form of listening. Active listeners pay attention to the words being spoken and try to understand the speaker's point of view and feelings. It involves verbal and nonverbal cues, such as making eye contact, nodding, asking questions and repeating what was said. Business leaders should engage in active listening as much as possible because it allows for a two-way exchange of information. This type of listening also shows that the leader cares about what the other person has to say and is interested in hearing their thoughts and ideas.
Tips on How to Listen Effectively
As we've seen earlier, good leadership and listening effectively go hand in hand. Use the following tips to hone your leadership listening skills:
Make an effort to pay attention. It's important to be present and focused when someone is speaking. This can be challenging, especially if you're multitasking or the conversation isn't interesting. However, giving the speaker your full attention is essential to understand what they're saying.
Try to see things from the other person's perspective. It can be easy to be engrossed in your own point of view and fail to see things from the speaker's perspective. When you're listening, try understanding where the other person is coming from, what their goals are and if they're facing any issues.
Summarize what the other person has said. Once the other person has finished speaking, take a moment to summarize what they've said. This will help confirm you understood them correctly and show you were paying attention.
Ask questions. If you're not sure about a point or you want to get more information, ask questions. This helps you better understand their message and shows you're engaged in the conversation.
Avoid interrupting. When you're eager to make a point, it can be tempting to interrupt and start talking. However, it's important to let the other person finish speaking before you respond to show respect and avoid misunderstandings.
Be aware of your body language. Your body language communicates how you're feeling and influences how the other person feels during the conversation. Avoid negative body language, like rolling your eyes or crossing your arms, as this can make the other person feel defensive. Instead, try to maintain an open and relaxed posture.
Effective Listening and The Leader: Opportunities to Practice
Effective listening is a crucial skill for any leader, but it can be challenging. That's why it's beneficial to seek opportunities to practice your listening skills. This can be done in both personal and professional settings. You can start by:
Calling a friend or family member to ask about their day and actively listening to their answer
Making an effort to listen attentively in your next work meeting
Speaking with someone you disagree with and trying to understand their point of view
Chatting with a colleague about a topic they're passionate about
Listening to a podcast and focusing on the message
Be a Better Leader by Listening Effectively
As a leader, making a conscious effort to listen effectively can help you build better relationships, gather essential information and make better decisions. By following the tips above and practicing active listening, you can become a better listener and a more effective leader.
Sun Health Center's Peak Performance Neuro Therapy
can help you maximize your leadership potential through sharper focus, faster learning, reduced stress level and increased productivity. Call us at (877) 258-1697 or
visit our website
to learn more.