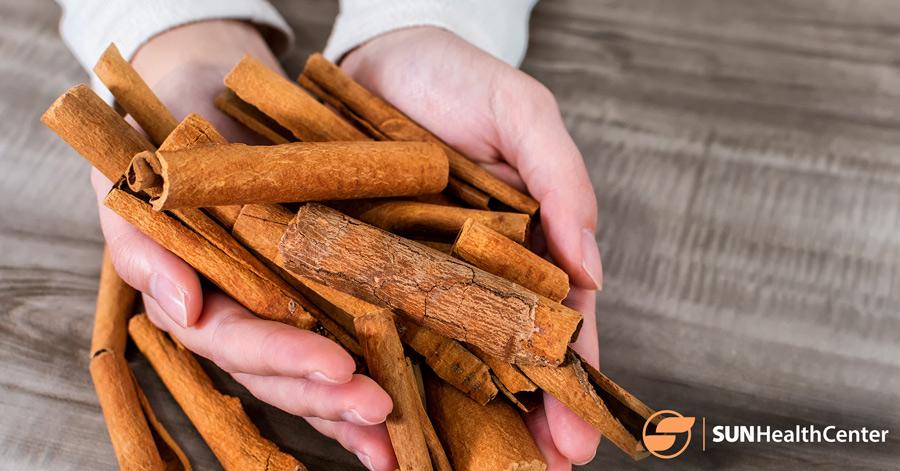 Medical research suggests a link between cinnamon and mental health. According to an in-depth analysis of 40 studies, there appear to be cinnamon benefits for brain function. Many of the studies focused on the effects of this fragrant spice on memory and cognition. However, there's evidence that cinnamon may also help alleviate depression symptoms.
The Connection Between Cinnamon and Mental Health
Cinnamon may be one of the most useful natural supplements for mental health. It has a variety of components that provide its neuroprotective effects, including:
Methanol extract
Eugenol
Cinnamaldehyde
Cinnamic acid
Methanol is extracted from cinnamon bark. It may reduce or prevent amyloid plaques in the brain associated with the development of Alzheimer's disease. In addition, it has antioxidant properties that may help ease depression by fighting inflammation. Research points to a link between chronic inflammation and depression, so antioxidants that reduce it may prove beneficial.
Eugenol is another component with the same effects. Cinnamaldehyde and related compounds are also anti-inflammatory and may also help extend cell life span. It's possible that cinnamon's natural components work both individually and as a whole to improve mental wellness.
Other studies claim cinnamon may have physical benefits. The University of Maryland reports cinnamon may improve cholesterol levels and insulin sensitivity. This common household spice may also help keep arteries from hardening, thus providing a cardioprotective effect.
A holistic approach to mental health involves taking care of the body as well as the mind. Adding cinnamon to your diet may have positive effects on both. When you exercise regularly and eat a nutritious diet, you're less likely to experience depression. If you do, symptoms may be milder, and you may be better equipped to cope.
Types of Cinnamon and How Much to Use
If you're exploring alternative medicine for mental health and want to try cinnamon, the first step is choosing your preferred variety. There are two types of cinnamon: Ceylon and cassia.
Ceylon cinnamon is from Sri Lanka and is known as "true cinnamon." It comes from evergreen bark and is considered the finest quality cinnamon. Experts believe it has more potent health benefits and fewer side effects than cassia cinnamon.
Cassia cinnamon isn't the same as true cinnamon. It's actually a blend of cassia and cinnamon, and it's considered less pure and potent than Ceylon. Another factor that puts Ceylon in the lead is that cassia contains a comparatively high amount of coumarin. This chemical can cause liver damage and other negative effects if overconsumed, which is why limiting daily cinnamon intake is a must. WebMD recommends consuming no more than one-half to 1 teaspoon of cinnamon daily in any form.
How to Use Cinnamon for Mental Health
When it comes to herbal remedies for mental health, there's an assortment of options. There are many ways to use cinnamon, so choose your favorite. If you're using cinnamon powder, add a few sprinkles to a cup of your usual coffee or tea, or top a piece of buttered toast with this warming spice. Cinnamon can be sprinkled on oatmeal for a healthy breakfast or dusted on sliced apples. If you're using a cinnamon supplement, refer to package instructions.
The same University of Maryland report cited earlier regarding cinnamon's health benefits states that even a cup of cinnamon tea after dinner can have benefits. You can find cinnamon in powder form at the supermarket, and some stores have cinnamon sticks. Ceylon cinnamon bark is harder to locate at grocery stores — some have it, others don't — so you may have to go to a specialty store or shop online.
Other Natural Supplements for Mental Health
Now that you know more about the connection between cinnamon and mental health, let's talk briefly about other nutraceuticals for mental health. Some of the most common nutritional supplements for mental health include:
Chamomile
Lavender
Passionflower
Black cohosh
Another supplement used for depression and anxiety that's been studied extensively is Saint-John's-wort. In addition to these and other herbal supplements, vitamins may be useful. Vitamin deficiencies can play a role in depression and other mental health conditions, particularly vitamin D and B-complex vitamins. A doctor can perform tests to determine whether you have any vitamin deficiencies and how severe they are.
The Importance of Consulting a Medical Professional
Before trying any alternative or traditional remedies for mental health, consult a medical professional. Your doctor will need to add it to your chart and may want to monitor certain health factors, such as liver and kidney function.
Even natural supplements can interact with other medications and supplements you're taking, whether prescription or over-the-counter. In addition, if you have any underlying medical conditions, the use of certain supplements may be discouraged or even dangerous. Medical supervision is imperative when using any type of mental health treatment.
Pursuing Holistic Wellness With Natural Supplements
Holistic wellness covers all the bases — body, mind and spirit. When you take a holistic approach to health, it means you're treating the entire self rather than a single aspect. This often involves the use of natural supplements such as cinnamon, but it can also include many other therapies.
Holistic wellness might include a dietary plan and fitness program in addition to natural supplements. Meditation or other alternative therapies may be employed. Traditional medical care and pharmaceuticals can play a role in a holistic health care plan, too. Each person and their mental health needs are unique, so it's crucial to take an individualized approach to treatment.
Contact Us for Compassionate Mental Health Treatment
If you or a loved one is struggling with depression, contact Sun Health Center to discover treatment options. We provide depression therapy and innovative treatments for traumatic brain injuries, addiction and other mental health issues. Our team of caring, highly trained mental health professionals is here to help you every step of the way. Contact us via telephone or reach out through our website to learn more.