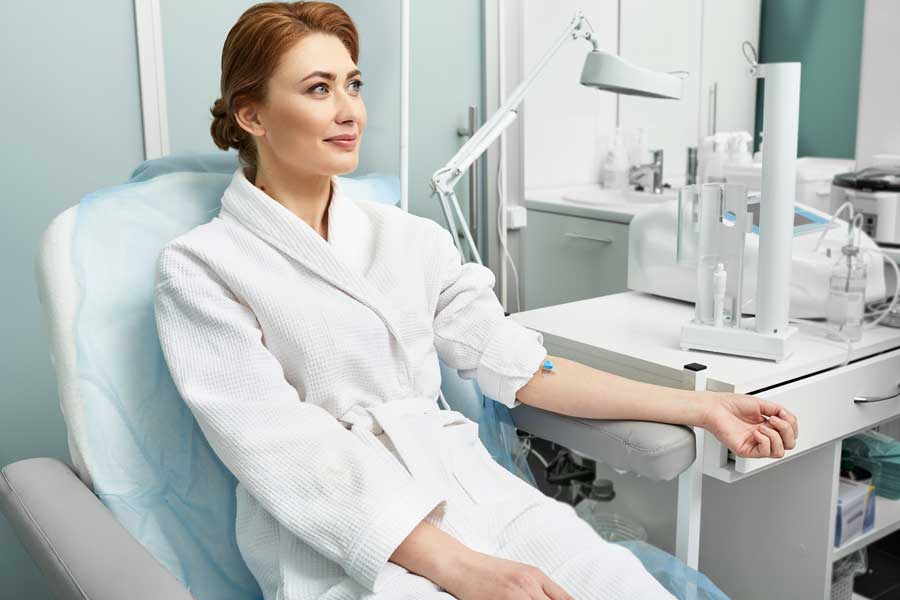 If you're on social media or watch reality television, chances are you've noticed a significant uptake in celebrity use of IV therapy in recent months. This might look like a trend sweeping the Hollywood elite, but many celebrities have been making use of IV hydration therapy for years. Back in February 2015, supermodel Chrissy Teigen posted a photo on Instagram of herself hooked up to an IV with the caption, "Hello body meet vitamins," promoting her use of IV therapy for a wellness boost. Kendall Jenner and her friend Hailey Bieber are also known to use IV therapy, with the pair televising a treatment session on the Kardashians' new Hulu series in 2022. "Things like this, they comfort me," Jenner told the cameras when explaining why she was obsessed with various wellness treatments lately. It's promoted by celebrities, but is IV therapy safe, and is it accessible to everyone? Why do people get hydration IVs, and what are the benefits, if any? Find out more about IV hydration therapy and the potential benefits and risks associated with this wellness trend.
Is IV Therapy Suitable for Everyone?
In the medical field, IV therapy is used for a wide range of purposes related to treating and managing legitimate health conditions. Doctors administer fluids intravenously when patients are ill and lose fluids due to surgery, vomiting or diarrhea. Doctors may also use IV therapy to administer medicines like chemotherapy and antibiotics when it's necessary to treat a patient's medical condition. However, the IV hydration therapy being promoted by celebrities is non-medicinal and typically provides a hydration boost or vitamin boost that the individual uses to increase energy or attempt to overcome a mild condition like the common cold.
Vitamin IV Therapy
In IV vitamin therapy, practitioners typically administer what's called a Myers' Cocktail. The Myers' formula contains high doses of vitamin B, vitamin C and minerals (like magnesium or calcium), all mixed with sterile water. This concoction was first promoted by a Maryland doctor named John Myers, and while it's popular, there's limited information to support the benefits of this treatment. At professional rehabilitation and treatment facilities, like Sun Health, vitamin IV therapy can be used to replenish bodily fluids and support patients who are experiencing withdrawal symptoms. The use of IV therapy to reduce symptoms caused by dehydration and nutritional deficiencies can help keep patients comfortable during the detox process. Our facility uses B vitamins, vitamin C, calcium, magnesium and amino acids in our vitamin IV drips to support recovery.
Ketamine IV Therapy
IV ketamine therapy is another option available when recommended by a doctor following a professional diagnosis. Ketamine is a drug that can be administered to help with treatment-resistant depression and other mental health conditions, such as anxiety and obsessive-compulsive disorder or OCD. This treatment lasts for about 6-8 weeks, affecting different receptors and neurotransmitters in the brain than typically prescribed SSRI drugs.
Is IV Therapy Affordable?
It may come as no surprise that, since celebrities are the ones indulging in IV hydration therapy, the treatment typically doesn't come cheap. According to the National Post, each IV drip costs $100 per session or more, depending on where you're receiving the treatment and what concoction of vitamins is administered. You'll also find that most facilities administering IV therapy for recreational purposes don't accept private insurance, Medicaid or Medicare, often claiming there's too much red tape surrounding the billing process.
Everything to Know About IV Therapy
If celebrity fads have influenced you to consider trying IV hydration therapy for yourself, there are a few considerations to make before paying a significant sum for this treatment. Look at the benefits of this therapy versus the associated risks and whether medical professionals believe it's safe. In most cases, it comes down to whether the facility administering the IV treatment is reputable.
How Long Has IV Therapy Been on the Market?
IV therapy for medical treatment has been around for centuries, but the vitamin IV treatments celebrities are now enjoying were first introduced in the 1970s by Dr. John Myers. Today, many of the vitamin IV treatments administered by wellness clinics and spas are variations of this formula.
Why Do People Get Hydration IVs: What Are the Benefits?
Why do people get hydration IVs? People seeking this type of therapy are usually looking to boost their energy levels through additional vitamin consumption and better hydration. However, in some cases, individuals may seek intravenous drip therapy when they have an upper respiratory infection or other mild conditions that they want to recover from more quickly. Celebrities like Kendall Jenner promote the treatment as a wellness practice, but the benefits are not so clear. Some people seek this treatment for the benefit of faster recovery from:
Food poisoning

Hangovers

Influenza
The reason the hydration treatment is beneficial in these cases is that the individual is dehydrated. While many celebrities believe the IV therapy concoction containing vitamins may boost their energy or that a beauty IV drip will improve their skin, there's no legitimate evidence to support this. Can liquid IV vitamins help you lose weight? Technically, the act of undergoing an IV drip alone is not proven to help stimulate weight loss, so this is not a direct benefit of the treatment. While studies indicate that remaining hydrated supports weight loss, drinking cold water is a more effective way to boost the metabolism than receiving hydration therapy intravenously.
Is IV Therapy Safe?
The celebrity trend surrounding drip therapy might look glamorous, but it's not without its risks. In 2018, Kendall Jenner was hospitalized due to complications resulting from her IV drip therapy treatment before attending an Oscars afterparty. According to a 2013 study, 1 in 5 patients on IV therapy suffer complications due to the way the IV treatment is administered. IV therapy is only safe when the IV catheter is placed by a trained medical professional in an accredited facility. It's also a risk to receive IV treatment if you're unsure what's in the concoction being administered. Some vitamins and minerals in IV drips could interact with other medications you're taking. You should always consult a doctor before undergoing IV drip therapy for hydration or recreational purposes.
What Concerns Are There Surrounding IV Therapy?
Potential concerns and risks associated with repetitive and frequent IV recreational therapy include infections at the insertion site, skin irritation and infiltration (if the cannula comes out of the vein and injects the liquid under the skin). If you're choosing to engage in recreational IV therapy, ensure you know what saline and vitamin solution is being administered and how it interacts with any other drugs or medication you may be taking. However, when receiving vitamin IV therapy or ketamine therapy as treatment or recovery support for mental health disorders, the benefits of IV therapy may outweigh the risks. Talk to your doctor to develop a treatment plan that meets your needs and gives you the best chance of recovery.
Where to Seek IV Therapy
If you need IV therapy to support a recovery process, such as detoxification from addiction, turn to a safe and accredited facility like Sun Health Center in Southeast Florida. We offer IV therapy programs as well as neuro therapy for treatment of traumatic brain injury, mental health and addiction. Call Sun Health Center today at (877) 258-1697 to schedule a consultation and find out what treatment path is right for you.